About Learn Thai Podcast
Learn Thai Podcast is another online option for learning the Thai Language. At the time of this review the course has over 800 videos which can be fully downloaded to your computer. You also have the option to sign up to the podcast and download all the audio files directly to your mobile device. That way you can learn on the go such as when you are at the gym or driving in your car.
Strengthen Your Skills
Learn Thai Podcast is also a course that has been used at least in the past for some of the schools that teach foreigners the language in Thailand. Some students prefer to learn in the privacy of their home instead of a class environment. The course focuses both on formal and informal Thai to help you get a solid understanding of the language. That way you can feel more confident in the real world when you come face to face with Thai people that are unfamiliar with the English Language.
Make Expat Life Easier In Thailand
For expats living in Thailand it is also a good option especially if you are not one for going to an actual school. I personally have had experiences with classroom environments. It really depends on the strength of the teacher and the level of the students for your overall progression. In fact you could do both. A great way to catch up to your class or even surpass their knowledge is to take a Thai course on your own.
As an expat living in Thailand you can get by without Thai language skills for the most part.  Especially if you happen to live in the major cities.  However, having some grasp of the language will make things much easier day to day.  Plus other situations such as talking to the police, renting a condo, speaking to your Thai partner or ordering dinner can all be made simpler with some basic skills.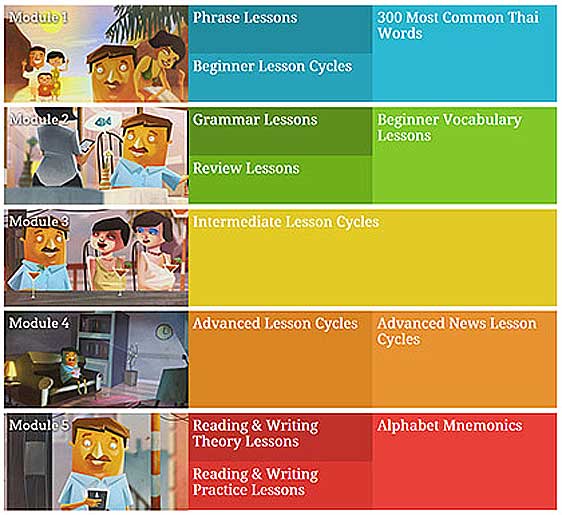 The Learn Thai Podcast is broken up into 5 Modules:
1. Module 1 Learn Thai Podcast – Is a list of 300 of the most common words that you will hear over and over in Thailand. This is a beginner course and gives you a strong base to help you start to form your own sentences
2. Module 2 Learn Thai Podcast – This section main objective is strengthening your vocab and your Grammar skills. It will teach you how to form sentences, questions, answers and the tone rules of the language. Each course also has a review section to help you practice what you just studied.
3. Module 3 Learn Thai Podcast – This is the intermediate level which focuses on more Grammar, Vocab but also introduces Conversation lessons into the program. Again you will have access to review lessons to help strengthen your skills on each lesson that you go through.
4. Module 4 Learn Thai Podcast – This is the advanced level which once again focuses on even more Grammar, Vocab and Conversation lessons. For the individual that has a good intermediate grasp on the language. In this module News Lessons are also introduced. The News you see in the papers and on television are very formal Thai. Many of the words used on formal situations are not used on a daily basis. It is great to learn very formal Thai as well but is smart not to introduce it too quickly is it can be a little harder. Hence, why it has been introduced into the Advanced Lessons.
5. Module 5 Learn Thai Podcast – This lesson is focused on reading and writing the Thai Language. After you finish module 1 and get the basics I would suggest you start Module 2 and also start working on Module 5. You do not have to wait to get to advance to start reading and writing. I would suggest this because learning how to read and write will actually help you with your tone skills. The Thai Language has 5 tones and learning how to read can help you understand this more quickly.
Learn Thai Podcast is just another format on learning the language. I have reviewed a couple options for learning the Thai Language and there is no right or wrong on the course selection in most cases. Each course teaches a different way and it is up to the individual if they prefer one method over another. I would suggest checking out YouTube for some of the Learn Thai Podcast samples. That way you can get a stronger understanding on how this course works.
Formal And Informal Thai Teaching
Podcast Available
Large Number Of Lessons
Uses Movies TV Scenes To Help Your Understanding
No Monthly Join Options
No Full Mobile Support Member Area
Navigation Takes A Little Time To Get Used To
Design A Bit Old
How To Join
Joining this site is a little different than what I have seen on other learning Thai options. You have to join under a 5 year subscription and at the time of this review the cost was $197 US Dollars that could be spread out over 4 payments. The site also states that you have a 30 days to refund the course if you decide it is not for you. When you join the links take you to a PayPal page to sign up but also take note on that page of the credit card and debit options as well.