Wat Phra That is a famous temple that is located in the very popular tourist destination of Chiang Mai, Thailand. This temple is quite sacred to the Thai people and is one of the most important temples not only in Northern Thailand but the whole country. Wat Phra That is situated on the Mountain of Doi Suthep which overlooks the main city of Chiang Mai. Getting to the bottom of the temple is rather easy as every taxi or Baht Bus driver will know exactly where it is. Taking a Baht Bus from the bottom of the mountain to the temple will probably cost you about 40 to 50 Baht. The price will certainly go up depending on how far you are away from the temple and if you decide to take a private taxi instead.
Driving to Wat Phra Tat Doi
Of course, many people rent their own transportation such as motorbikes, cars and even some people brave the huge mountain hills and bicycle up the mountain. By motorbike you are looking at about 15 minutes of driving to reach the temple. You will know you have arrived when you see a huge number of tourists, shops and stairs leading up the temple. It really is impossible to miss as you are driving up the mountain. Driving can be quite fun as well with the amazing trees surrounding you and the fantastic views off the mountain on your way up to the mountain. Just be careful to stay away from the center of the road as often vehicles coming from the opposite side will cross the center to pass each other. It can be a bit of a dangerous ride if you are not careful so keep your eyes on the road and do a full stop if you want to check something out to be safe.
The Stairway To Wat Phra That
After you have finished parking or dropped off at the bottom of the destination you have to climb a series of stairs to get to your final temple Wat Phra That destination. This might be a hard trip for those with leg problems, disabilities or the elderly so be aware that you have to walk up over 300 stairs to get to Wat Phra That. Many people take breaks along the way and I would advise taking some water to keep you hydrated on your journey. The climb is intended to help devotees accrue Buddhist merit. Though this temple is quite sacred to the Thai people it is also become a bit of a tourist trap. That is not to say it is a place to avoid, in fact I think it should definitely be visited at least once on your trip to Chiang Mai. However, you can expect to have a large number of tourists from all over the world visiting in the peak hours.
Admissions and Donations
There is an admission to the temple for foreigners at 30 Baht or about 1 US Dollar which certainly will not break your bank to see such a beautiful sight. There are also a number of donation boxes throughout the temple which you often see at most temples to have support the monks that run the temple and to keep up with repairs and so forth of these wonderful structures. The donation is completely optional but it might be nice to at least toss in 20 Baht as every dollar counts.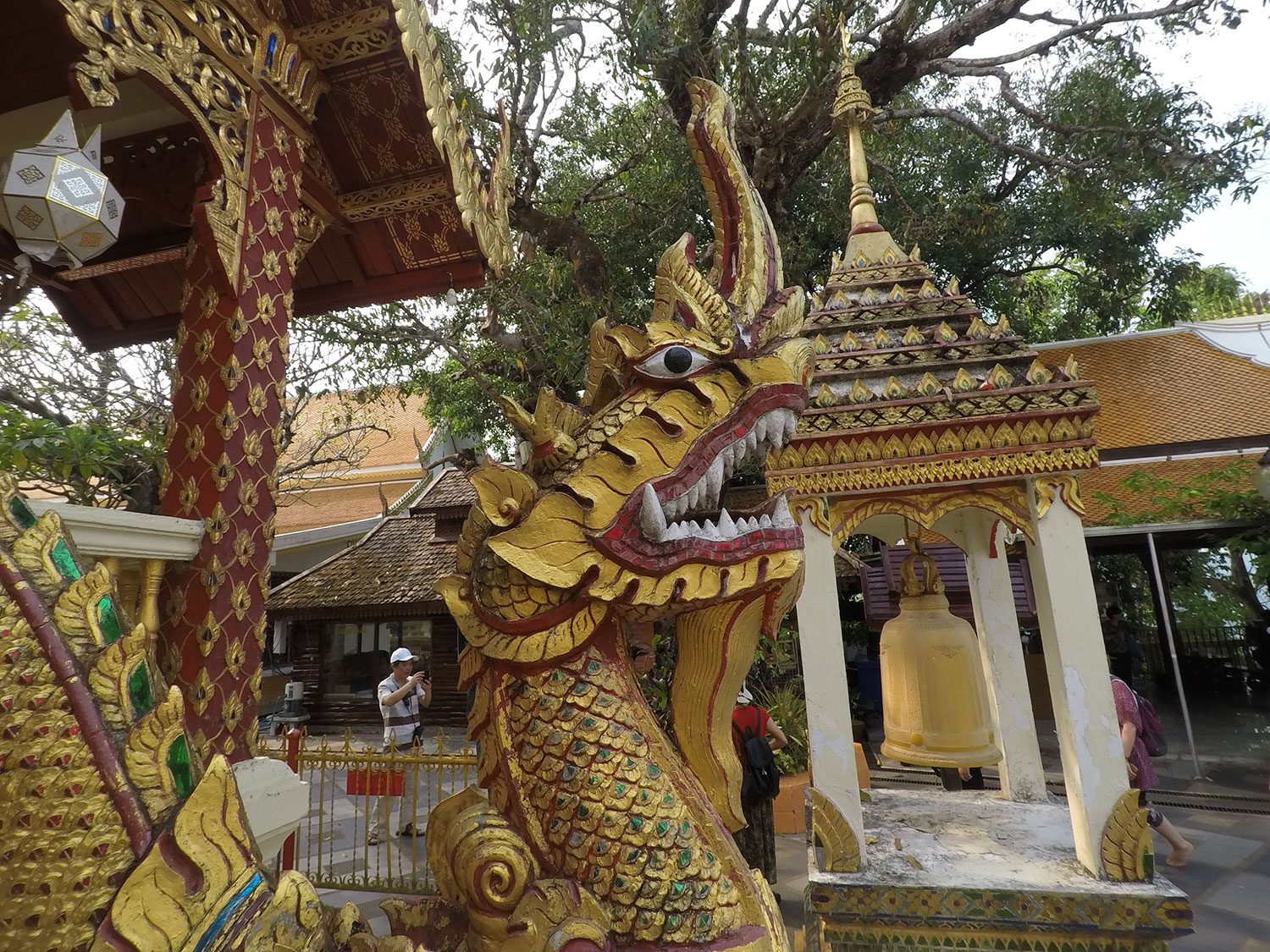 Be Respectful When At The Temple
Temples in Thailand are very special to the Thai people so make sure to follow all the rules that are in place such as not dressing too sexy, not wearing your shows in temple areas, not touching things that are marked and so forth. The Thai people are sharing their culture with you so make sure you in turn pay them the proper respect they deserve in return. The temple itself is surrounded by amazing breadfruit trees, statues of Buddha and elephants and amazing shrines. You also have the option to go outside and see some of the amazing views off Doi Suthep which overlook the city. Unfortunately, I went during the smoky season so my photos of the city view were not that great and I decided not to post them this trip.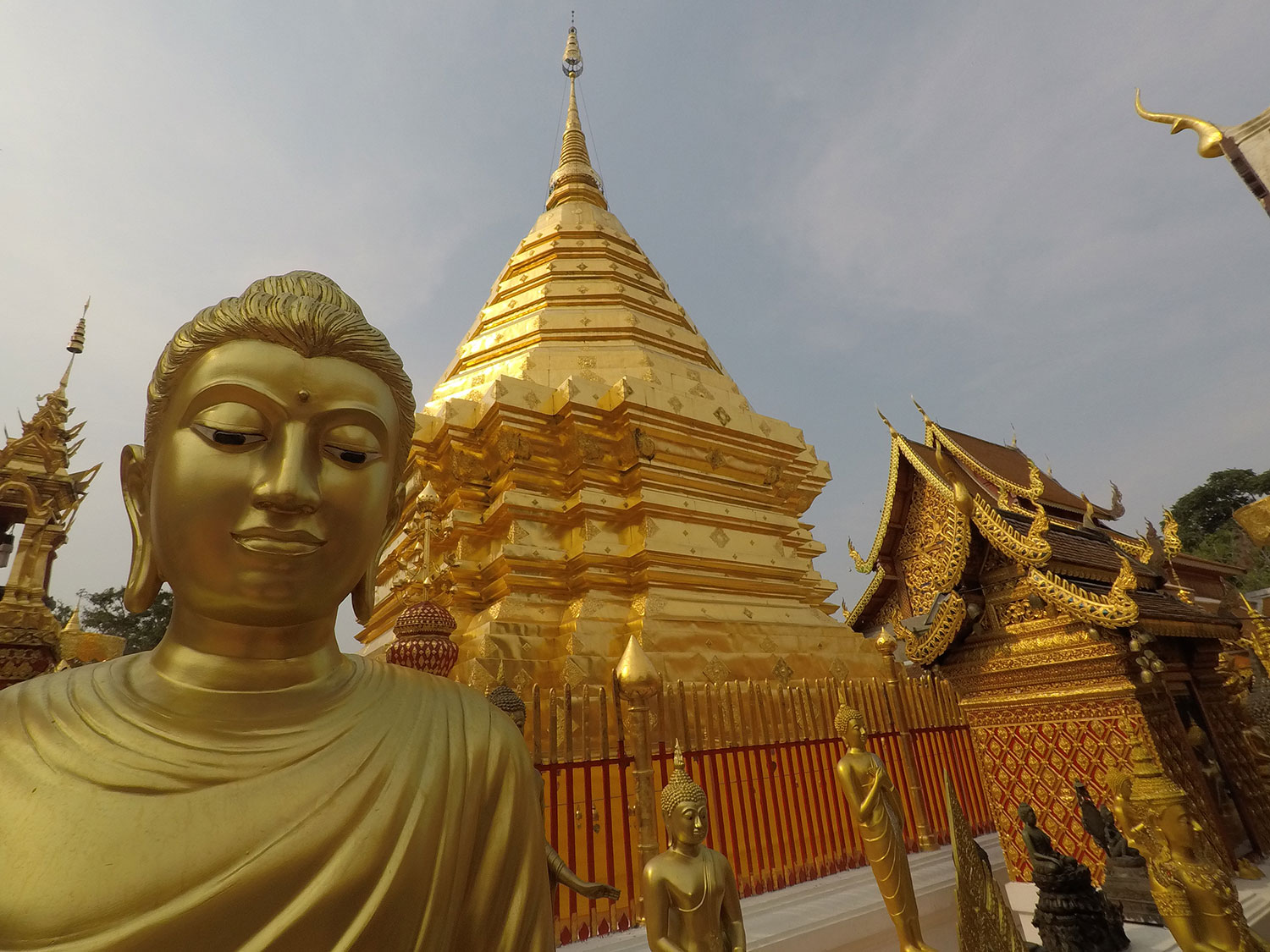 Inner And Outer Areas Of Wat Phra That
The inner area of the temple has the amazing conical structures that are called Stupas and symbolize the mythological Mount Meru. Stupas are also sometimes called Chedi in Thailand and Laos. You are free to take photos and videos of the temple just try not to disturb those that are there to give merit as many will be lighting candles, praying as Buddha looks upon them. The temple is open from 6am to 6pm every day. At the bottom of the temple is a number of shops with all sorts of Thai trinkets, clothes, food and more. You are also often greeted by little Thai Girls dressed in traditional outfits at the bottom of the stairs. Tourists just love to take photos with them as they just look so cute and a small fee is usually required to do so. So, there you have it, a small look at Wat Phra That in Chiang Mai. Make sure to put it on your list the next time you are in the area. Though the stairs can be tiring the journey up them is certainly worthwhile.