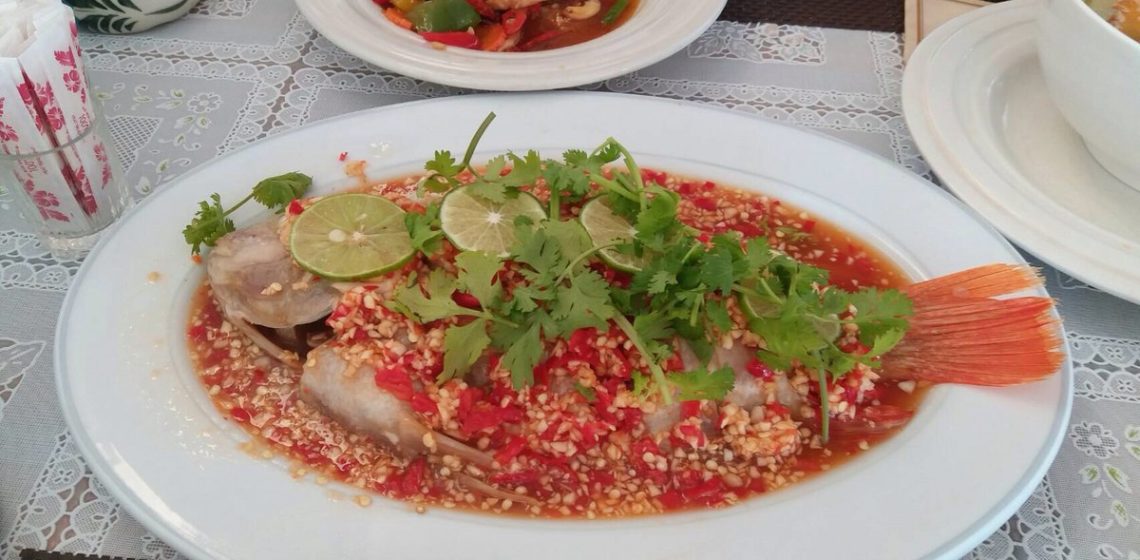 Baan Noy Phuket restaurant is a wonderful place to eat if you are looking for great food at reasonable prices. A wide range of Thai and European dishes served fresh with impressive portion sizes. Recently I was in Phuket for some rest and relaxation. Really needs some beach time as I live up North away from the water. While in Phuket my girlfriend and went to several restaurants but Baan Noy Phuket Restaurant was the best we found on this trip.
Restaurants In The Area
Initially we went to a lot of restaurants in the Patong area. A lot of the establishments had got strong review ratings on popular travel rating sites. However, we found that most of these restaurants were catering to the foreign taste buds and really lacked the authentic Thai quality. Sure they were busy and for the most part gave good service but the food was quite average. Not only that, it was quite expensive in regards to Thai Food Prices. Again surely do to the fact that we were smack down in the tourist area.
So one day we took a trip into Phuket Town just outside of the tourist area. Needed to get a break from all the foreigners and just do some sightseeing. We checked out several places such as some temples, museums and look out spots. Of course we were getting hungry so I took out my phone and searched for a popular restaurant in the area and found Baan Noy Phuket Restaurant seemed to have a lot of positive reviews.
Finding The Restaurant
Took us a few attempts to find the place even with the GPS as the restaurant was located off the main road on a gravel path. When we arrived early in the afternoon the restaurant was completely empty which often can be a bad sign. However, we were tired and hungry and decided to give it a chance. Greeted by three friendly waitresses we sat down and began our Baan Noy experience.
The Restaurant Food Experience
Baan Noy is a very nice small restaurant. Very clean with a number of tables and fans to help keep us cool. The menu is quite big with a large selection of items, both Thai and European so anyone will surely find something they will enjoy. We ordered the Tom Yum Gung, Steam Fish, some shrimp, rice and various other small Thai dishes. The prices are a little more expensive but certainly not going to break you, about on par for the area that caters to tourists.
The food was simply amazing. How I wish I found this place earlier because I would have come back several times to taste Khun Noy's food. The food was fresh and had vibrant colors when it arrived and was simply fantastic. The steamed fish was perfection with a nice combination of spicy and sweet and the Tom Yum Gung was just loaded with shrimp. Normally, when I order this dish I might get 4 to 6 shrimps but had about a dozen swimming around this wonderful Thai selection.
In fact the food was so good that my girlfriend and I still talk about it several weeks after. Every time we go to an average restaurant we often say wish we were back at Baan Noy Restaurant. I often dream about having Khun Noy move her restaurant up north because if she did I know I would be going 2 or 3 times a week.
Amazing Friendly Owners And Staff
While we were there we had the opportunity to meet Khun Noy and her husband who I believe is from Germany. They were both very friendly and Khun Noy was thrilled that we enjoyed her food so much. The husband told us that the restaurant gets very busy at nighttime and it is best to call for a reservation if you can. I guess this goes to show you that even an empty restaurant can have amazing food. We just happened to be the first customer of the day. I am quite confident that at night time Baan Noy becomes very popular.
Huge Menu Lots Of Choices
Fresh Food – Color Was Amazing
Amazing Staff
Little More Pricey
A Little Tricky To Find
Can Get Crowded Especially at Night
Fantastic Food Experience
My final thoughts on Baan Noy Phuket Restaurant is if you are in the area you should stop by at least once to enjoy a wonderful meal. You can really tell that Khun Noy cooks with love and wants to deliver the finest quality and flavor to her customers. The staff is just as fantastic as the food and we will certainly be back. Take a break from the beach life one night and head out to her restaurant I think it will be worth the trip. We went to Phuket mostly for the beaches but Baan Noy was one of the top highlights for both of us.
Some Quick Tips About Baan Noy
Open Noon Until 10pm Everyday except Sundays (Closed Sundays)
Phone Number is 093 773 0020 Thai and English Speakers
German and French Speakers Can Call 082 802 0162
Email Address of baannoyrestaurant@gmail.com
Baan Noy Restaurant Website
Baan Noy Menu PDF Format
Small map on how to get there from their website.
Any questions or experiences please make sure to leave a comment.